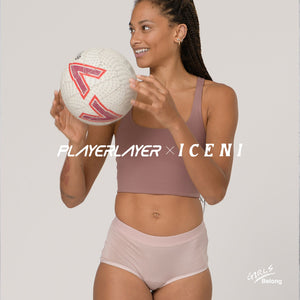 Iceni Partners With Leading Sportswear Brand PlayerLayer as Part of New 'Girls Belong' Campaign
Iceni is delighted to announce a new partnership with sportswear company PlayerLayer as part of a female sport initiative aimed at breaking down barriers for women and girls in sport.
PlayerLayer becomes the latest high profile partner for Iceni - joining the likes of England Rugby League, London Pulse and The Blaze - with products now being featured on PlayerLayer's retail channels as part of the brands 'Girls Belong' campaign.
Girls Belong is centred around encouraging young girls to participate in sport by creating an environment where everyones belongs. PlayerLayer recognises that one such barrier revolves around sports kit in schools, where self consciousness and, in particular, body consciousness can get in the way of development for many young people. 
The campaign aims to alleviate that experience for young girls by designing products focused on function and fit, and collaborating with specialist brands such as Iceni to further enable girls in sport.  
Iceni is the only sports performance period-wear brand on the market and was founded by former England international netball-player Vanessa Smith and Francesca Hansen, who said they are 'immensely proud' to be working with PlayerLayer on this project. 
"As a brand we love what PlayerLayer is aiming to achieve with the Girls Belong campaign; it perfectly embodies the work we do day in and day out for the betterment of female sport. Through partnerships, like this latest one with PlayerLayer, we are able to add significant strength and value to our mission of removing barriers for women and girls in sport."
Iceni is now available on the PlayerLayer website, and can be found here.
---