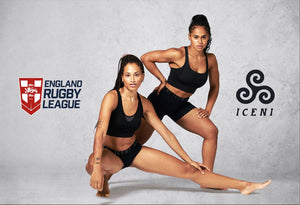 Iceni partnership means England Women wear white for Rugby League World Cup
ICENI announce partnership with England Women's National Rugby League Team following opening game against Brazil Rugby League World Cup.
ICENI is the only sports performance period-wear product on the market and enables athletes to compete with confidence.
Partnership comes following consultation with England players and trialling of products in build-up to the tournament.
The environmentally and economically sustainable brand produce Hipster Pants, Game Changer Sports Shorts, Warrior Boy Shorts and Sleep Easy night-time knickers.
England Women's Rugby League team are wearing all-white shorts at the Rugby League World Cup, thanks to a new partnership with sports performance period-wear brand Iceni.
Iceni, a brand created by two mothers of sporting girls who recognised the issues female athletes faced when wanting to enjoy sport, will be supplying the team with sport-performance, British-made period wear that doesn't require wearing any additional sanitary products.
The announcement follows a player-led consultation which resulted in England squad members deciding that it was important to them to continue wearing the traditional white shorts and to find a solution ahead of the opening game against Brazil on Tuesday November 1 at Headingley Stadium.
The Iceni product range is reusable, as well as economically and environmentally sustainable. Most importantly, it removes any fear or anxiety for female athletes on their period and allows them to focus solely on their performance.
England Women's Head Coach, Craig Richards, said:
"We are delighted to be partnering with Iceni ahead of a huge moment for women's sport in this country. Following consultation, it was important to our players that they could wear the iconic all white England kit for a tournament in their home nation. This partnership with Iceni means they can do this and perform with confidence.
"Our players were also aware of the barriers that girls face in sport due to their periods and wanted to use this moment to inspire future generations, to show young girls that there is no need for periods to distract them from the enjoyment sport can bring."
Iceni co-founder Vanessa Smith said: "We are very excited to partner with the England Women's Rugby League team. As a former England netball player myself, I know first-hand how periods can distract you from being on top of your game. It is something that female athletes should not have to be concerned about, at any level, and we believe Iceni will help break down this barrier."
Francesca Hansen, also a founder of Iceni, added: "At all levels of sport, women and girls should be able to play with confidence and our partnership with the England Women's Rugby League team will only help to inspire and encourage sportswomen of all abilities and age groups to not let their period be a barrier to participation in sport. We wish the team every success at the tournament and hope Iceni can play a role in their efforts to win the trophy."
It is fantastic to see a solution to the barriers that periods presents to female athletes, but also allows them to keep with tradition. Iceni wishes the England team the best of luck in the Women's Rugby League World Cup.
To find out more and view Iceni's full product range click here.
For more advice about managing periods and fitness, check out the Iceni Blog or follow them on Instagram , Facebook  and Twitter .
---