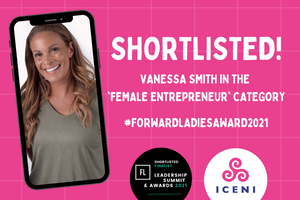 Iceni Silver founder shortlisted for Forward Ladies Award
Our co-founder, Vanessa Smith, has been shortlisted for the Forward Ladies Leadership Summit & Awards 2021 in the 'Female Entrepreneur' category.
We founded Iceni Silver in 2018 with the primary aim to enable women and young girls to stay active during their periods without the fear of accidents. 
We focused heavily on competitor research to ensure our products were more sustainable, reliable and effective than leading international brands. This research included our period wear being tested by some of the countries most elite sportswomen, including ex-England Cricket Player Lydia Greenwood, QPR Football Captain Hayley Peacock, Team GB Rower Emily Ford and Netball sensations The Corbin sisters.
Forward Ladies is a global community connecting women with opportunities and expertise to help them reach their full potential within their business careers.
The annual Leadership Summit & Awards celebrate talented businesswomen around the country and aim to inspire other women to find their own success. 
Commenting on her shortlist, Vanessa said: "I am so honoured, not only to be acknowledged by such an incredible community for women in business but also to be nominated alongside such successful ladies."
"Our period wear is absolutely the future of menstrual products. They are a highly effective, practical and sustainable alternative to sanitary wear and a perfect option for young girls who are just starting their period and are just getting to grips with how to manage their cycles."
"We developed Iceni Silver with the intention of inspiring women and girls, so to be shortlisted for an award like Forward Ladies is fantastic. I can't wait to share our values and  inspire more women to believe in their skills and abilities, not letting periods stand in their way!"
The awards will be held virtually on Friday, November 26th 2021.
Check out our
blog
and follow us on
Facebook
,
Twitter
and
Instagram
for more news and advice around periods and sport.
---