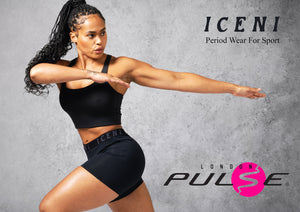 Iceni renew partnership with professional netball team London Pulse
Iceni announce the renewal of their partnership with professional sports team, London Pulse Netball
All members of London Pulse will now be able to able to purchase Iceni period-wear at a generously discounted rate.
Iceni provides the ultimate solution for female netball athletes on their period and the complications and concerns that can come with it.
Iceni are delighted to announce the renewal of their partnership with professional netball team London Pulse.
Now approaching their third season, London Pulse are a rising star of the netball world.  Iceni will be supplying Pulse with sport-focused, British made period pants that don't require additional sanitary wear.
It is not only athletes who will benefit from this great partnership, anyone who is a London Pulse member will also have access to all Iceni period wear products for a generously discounted price.
Pulse's vision is to be the beating heart of netball in London and to connect and encourage the communities in the capital to play, watch and enjoy netball.
Not only are Pulse a top division netball team, but they are also passionate about attracting, inspiring and nurturing young netballers across London. Their aim is to make the next generation of leading netballers for their schools, clubs and England netball.
London Pulse CEO and Director of Netball, Sam Bird, said: "We are more than delighted to continue our partnership with Iceni. We are all about encouraging as many people as possible into netball and sport in general, and this is a product that can help break down barriers to entry and give girls and women more confidence on the court."
Iceni co-founder Vanessa Smith said: "We're ecstatic to renew this partnership with London Pulse, as a former England netball player myself, I know first-hand how periods can distract you from being on top of your game. It's not something female athletes should have to be concerned about at any level."
Francesca Hansen, also Co-founder of Iceni added: "Women and girls should be able to play with confidence whether they're an amateur or professional athlete and partnering with
London Pulse gives us a great opportunity to help reach out to sportswomen of all abilities and age groups."
"We believe that Iceni is the pinnacle of period-wear for athletes and this partnership with London Pulse now being over two years deep, I think that speaks volumes about the quality of our product."
Iceni products are unique in that they use the antimicrobial material SILVADUR™
SILVADUR™ antimicrobial technology is a polymer-containing silver-technology that delivers silver ions when organisms land or form on a treated fabric. These ions continually release to safely minimise microbes that cause odour and material degradation.
---