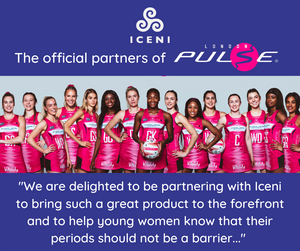 Iceni Silver partners with London Pulse as official period wear supplier
Iceni Silver official partners of Vitality Superleague London Pulse netball team
We are proud to announce we have partnered with London's only Vitality Netball Superleague Club, London Pulse, to supply them with sport-focused, British made period wear that doesn't require additional sanitary wear to be worn alongside.
In a recent survey, 60% of BBC Elite British Sportswomen said their training and athletic performance had been affected by their period. The survey also reported there is, more often than not, no sanitary bins on-site, with athletes wearing the same tampon or pad for hours on end whilst playing sports. 
Iceni period wear, which can be worn for up to 8 hours and can hold the equivalent of 8 regular tampons, has been designed with sport in mind and is specially cut to meet the needs of active lifestyles and has been tried and trusted by some of the UK's leading athletes and sports professionals. These include Rugby player and TV presenter Rachel Burford, England Cricket Player Lydia Greenwood and QPR Football Captain Hayley Peacock.
Our product range includes Hipster, Short, Night-Time and Game Changer Shorts which are made to wear under sporting apparel such as netball skirts. We recently launched an additional period knicker called The Defender, ideal for mild/light incontinence/periods.
Vanessa Smith and Francesca Hansen, co-owners at Iceni Silver, commented: "We are delighted to partner with London Pulse as the official period wear supplier to the VNSL squad. As someone who has been personally impacted, we wanted to develop a brand that would prevent our daughters and other active females from suffering from the same challenges when it comes to training on your period".
"It's fantastic to see our products having a positive impact on females in sport, enabling them to compete and train successfully at any level without the worry that periods can sometimes cause."
Sam Bird, Head Coach and CEO, London Pulse, commented: "It's our philosophy at London Pulse that netball is for everyone. This includes young females who are grappling with the impact of periods on their bodies and their performance. This should not be a taboo subject, it is a part of everyday life for all of our female athletes, and we are delighted to be partnering with Iceni to bring such a great product to the forefront and to help young women know that their periods should not be a barrier to sport participation."
To purchase your own Iceni period wear, head over to our collection here.
For more advice about managing periods and fitness, check out our blog or follow us on Instagram, Facebook and Twitter.
---