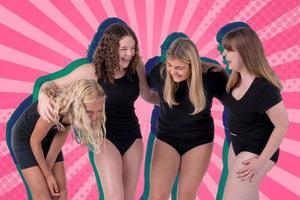 Period underwear should be a back to school essential
As children return to school after the Summer holidays, our new research has found that 80% of young women felt they did not have easy access to sanitary products at school, and a further four in five have had to sit out of a PE lesson due to being on their period.
Although the government encourages all schools and colleges to access free period products, one in four state secondary schools and colleges in England have not accessed period products from the Government scheme.
Lack of sanitary products and the social stigma associated with periods can be overwhelming for girls who are still in their teens, leaving them less confident to seek help and support when in school.
Lucinda Kate is just one young woman who was made to feel embarrassed and uncomfortable in class when on her period at school, "I was in so much pain one time after a teacher had refused to let me use the bathroom; in the end, I threw up at my desk and was sent home. 
"Waiting for my mum to collect me, I was sat on a bench next to the headteacher's office, when the Headteacher appeared and made a comment in disgust, complaining about girls faking stomach pains from periods. In the end, I was hospitalised for a week and (many years later) diagnosed with endometriosis."
With Iceni Silver's co-founder, Francesca Hansen, suffering from endometriosis and fibroids, there were often embarrassing incidents while keeping active, which kickstarted the Iceni journey to develop a brand that would prevent their daughters and other females from suffering from the same challenges.
Understandably, period knickers might not work for everyone; however, with children returning to school after the summer holidays, the period wear manufacturer urges parents of young girls to give them a try.
Vanessa Smith, co-founder at Iceni Silver said: "Made to look like regular pants and underwear, our range of period knickers are leak-free, feel great and hold up to 8 regular tampons (or 12 tampons if a light/moderate flow) worth, giving you complete protection from odours and leaks all day long.
As a reusable option, they are not only kind to the environment and your body but also to your pocket. On average, a woman spends £10.50 a month on menstrual products; that's £210 over two years. Compare that to the average purchase of three pairs of period knickers at £65, that's a significant saving in a relatively short time frame".
---