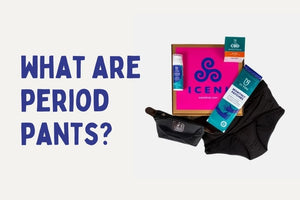 A beginners guide to period pants
Did you know that disposable sanitary products such as pads/towels can be made from up to 90% plastic, yet 1.4 million pads and 700,000 panty liners are still flushed down the toilet daily? 
With our own study revealing that over half of Brits (53%) find pads and tampons uncomfortable, we recommend period pants as a much more sustainable, comfortable and reliable option.
For those not too sure about the idea, we have put together a beginners guide to explain what period pants are, how they work and why you should upgrade your monthly routine.
What are period pants?
Period pants are the underwear you can wear during your period, replacing disposable products such as tampons, liners and sanitary pads. You can use them for both light periods and incontinence as well as heavy periods, post-partum bleeding and endometriosis. 
How do period pants work?
Period pants and underwear are often made from multiple layers of absorbent and water-proof material to protect from leaks onto clothes.
However, Iceni Silver period wear goes that one step further and is the only British period wear manufacturer using antimicrobial SILVADUR™ technology. The polymer continuously releases silver ions when an organism lands or forms on a piece of the treated fabric to safely minimise any microbes that could cause odour or material degradation. 
How often should you change period pants / how long do they last?
Period pants last around a day, depending on your period and flow. 
Iceni Silver underwear holds up to 40mls of flow, equivalent to eight heavy (or 12 regular) tampons, double the capacity of other brands on the market. It is designed to suit a range of activities and lifestyles, including different types of sports, providing complete protection from odours and leaks all day long.
Do period pants get smelly?
No! Not our period underwear. 
After wearing other brands, you may have found you couldn't wear them for long as they don't hold the amount you need creating overflow and an unwanted smell.
Some say our knickers are magic, but it's simply just science! Our underwear offers an unmatched intelligent freshness, with SILVADUR™ effectively controlling bacteria that could cause unpleasant odours, leaving you smelling fresh all day.
Of course, if you don't wash them at the end of the day and look after them properly, they will begin to smell. 
How do I wash the period pants?
Make sure to hand wash or machine wash on a cold 30℃ wash and hang to dry ready for the next day. Do not use fabric softener when washing or drying the knickers in a tumble dryer, as this will cause the protective layers to shrink or melt, making them ineffective.
Do you wear pads with period pants?
Many brands state that pads should be worn 'just in case'; however, we can confidently advise no additional sanitary products need to be worn with Iceni Silver period wear.
We offer different styles ranging from 20ml to 40ml, meaning you can feel comfortable and stress-free all day long without any worries of leaks, stains or odour.
Some women prefer to use period pants for lighter periods and as a backup on heavier days. However, this is entirely up to you and your preference. 
What do period pants feel like?
Period wear has been made to look like regular underwear. Our period wear is not bulky, yet they include extra layers as well as a specially formulated layer designed to absorb menstrual blood and remove odour.
In fact, our collection has been specially designed with women in sport and with active lifestyles in mind. For example, our Warrior Period Shorts are designed with a thicker elastic and slightly lower waist, making them highly comfortable to wear even when running, jumping and moving around. With a large protection area at the front and back, the shorts can keep you leak-free and secure even on your heaviest days.
Do period pants work?
We have plenty more reviews like the above to prove that period pants do work! 
To find out what our valued customers think about Iceni Silver period pants, head over to our reviews page to find out for yourself.
Period pants case study
A happy customer, Nicola Walker, advised: "I absolutely love these period knickers. I have used Modibodi in the past and found the material to be rigid and have occasionally leaked in them.  
"The period knickers have stretchy material, and the pad isn't nappy like in the normal day knickers; the night-time knickers do have a much larger pad, understandably. 
"The first couple of days of my period are heavy, and these have coped wonderfully. There's no horrid smell, and the sixes seem to be spot on. For me, the big win is the stretchy material - it's ace being able to move, run, bike, train as usual without the discomfort of unforgiving knicker seams. They are kinder to the environment too."
What are the best period pants, and where to get them?
If you're looking for comfort, security and longevity, you're already in the right place. Iceni Silver period wear is the only brand on the market that you can wear all day without the fear of leaks, smells or stains thanks to the antimicrobial SILVADUR™ technology used in each pair. 
Our range is also sustainable, economical, and cost-efficient. Unlike other brands, our period knickers are made in Britain to reduce emissions and air pollution. The products themselves remove the need for plastic-made disposable sanitary products.
Using Iceni period pants is not only kind to the environment and your body but also to your pocket! On average, a woman spends £10.50 a month on menstrual products; that's £210 for two years! Compare that to the average purchase of 3 pairs of Iceni knickers at £65, that's a saving of £145!
Check out our
blog
and follow us on
Facebook
,
Twitter
and
Instagram
for more advice around periods and sport or head over to our shop to become an #IceniWarrior.
---