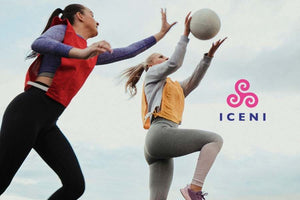 Which style of period knicker should I wear for my sport?
In a recent survey led by Dr Georgie Bruinvels, co-creator of the fitness app FitrWoman, 39 in 50 women found exercise eased the symptoms linked to the menstrual cycle, the most common being stomach cramps, breast pain and mood changes.
However, the use of sanitary products and activewear can add a lot of extra stress when exercising during your period. This is why we have developed multiple styles of period wear specifically cut for sport to support and help you feel safe whilst staying active. 
From yoga to netball, we have put together a guide to help you find the perfect fit.
Yoga
Our low rise Hipster knickers are perfect for wearing under your yoga or pilates leggings and the brief cut will allow you to maintain a full range of movement whilst wearing them.

Cycling
If you're a keen cyclist or frequent spin class goer, our Game Changer Shorts offer full leak security and have a wider protection area at the back of the pants so you can stay in the saddle for longer.
Running
The Defender Knickers are much thinner than our other styles and are great if you're looking for some light protection whilst out on a run. The fit is also higher waisted and are comfy even underneath leggings or shorts.
Netball
The Warrior Shorts are the perfect underwear for any keen netballers. They are designed with a thicker elastic and sit slightly lower on the gusset making them extremely comfortable even when jumping and running around the pitch.
Gymnastics
It can be tricky finding underwear to hide underneath leotards, but our Hipster Knickers will keep you protected whilst remaining out of sight. Plus the stretchy fabric will let you perform all your flips and tricks with no issues!
HIIT
If High-Intensity Interval Training is your thing then our Warrior Shorts are the shorts for you! They are made with a thicker elastic and sit lower on the gusset making them extremely comfy even during heavy exercise.
Rugby
If you're looking for guaranteed leak protection even in the most physical tackles, the Game Changer shorts are your perfect choice. The higher-waisted shorts offer 100% protection whilst keeping you comfy and able to move easily.
Trampolining 
Not only can our Defender Knickers be used for periods, but they can also be used for mild incontinence. If you are worried about bladder leaks try our defenders to feel protected whilst bouncing and flipping.
Football
Our Game Changer pants are the perfect period wear for underneath your football shorts. The lycra fabric is not only super protective but also breathable allowing you to keep going until the full time whistle.
Dance
The Hipster knickers will keep you leak-free underneath any short or tight dance outfit. Plus the low rise makes them super comfortable no matter your dance style.
Check out our blog and follow us on Facebook, Twitter and Instagram for more advice around periods and sport.
---