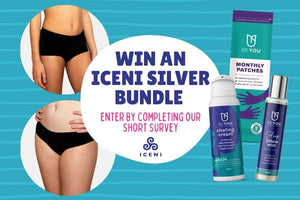 Win a pair of Iceni Silver period knickers and Be You Period goodies
Iceni Warriors are in with a chance to win a FREE pair of Iceni Silver period knickers of their choice and a bundle of Be You Period goodies!
​​Wake up, shower and slip into a fresh pair of our period knickers to keep you dry, comfy and confident throughout the day. Complete our short survey and be entered into the main prize draw and receive 10% off your next purchase.
The results of this survey will teach us insights into the social stigma associated with periods, how we can improve this and further provide support and confidence to those with periods.
Take part in our survey by following this link.
Want to know more about the prizes on offer? Some key features are below: 
Check out the full range here.
Check out our
blog
and follow us on
Facebook
,
Twitter
and
Instagram
for more advice around periods and sport.
---